PIN IT!
It's WEDNESSSSDAYY! (said in my strongest, best radio voice). I can't believe it's already been 3 days since the
Healthy Living Summit
. I swear, it feels like I was JUST in Philly walking to the Rocky Steps. But alas, I'm here in DC, sitting at my computer. But DC isn't THAT boring, I mean, we did have
an earthquake
yesterday.
It was my first earthquake and I survived! I can confidently stand here today and say I survived the great #DCquake AND #snowmaggedan. Now that is something I'll tell the grand kids. (One of the only things I'll tell them of my youth, har har har!) There was some SERIOUS devastation though, I mean, look at this yard? Mangled and torn up!
[via John McKinley]
But in all seriousness folks, it was REALLY scary for those few seconds and some legit damage occurred, like pieces of the spine of the National Cathedral fell down. Plus, in our own house, my favorite mirror from Ikea fell from the fireplace mantle and completely shattered all over the floor. I'm really bummed because I LOVED this mirror!
I can only imagine how FREAKED OUT the dogs were when it fell! Luckily, it was very replaceable and I ordered a new one to take it's place from Overstock. (Plus a new painting and a floor vase, don't judge me).
The brown matches the room better, anyway 😀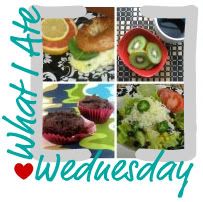 I'm really proud of myself, though, because even amongst all of the #earthquake madness, I still managed to snap a picture of everything I ate and drank for
What I Ate Wednesday
!
Breakfast:
My day began with the ususal suspect, coffee. LOTS and LOTS of coffee. For some reason, Tuesday felt like Monday for me so I had a whopping 3 cups throughout the morning.
But don't worry, I also ate breakfast. I had a delicious Odwalla bar that was found in my HLS swag bag. Normally breakfast and protein bars taste like gooey bark, but this one was REALLY good. It had a vanilla, cakey flavor so it was very easy to eat.
These bars are fairly low in calories and protein so they aren't super filling. But with my three cups of coffee, I was definitely full until lunch time. However, I recommend pairing it with a tablespoon of peanut/almond butter or at least a piece of fruit.
Lunch:
 Since my breakfast was lighter, I was pretty  hungry when noon rolled around. Luckily, I brought a very hearty lunch that I was pretty excited to eat. Spaghetti with homemade marinara sauce (recipe up tonight!) & 98% fat free turkey sausage.
The sauce definitely MADE the meal. It has an amazing kick to it, plus the juicy pieces of turkey sausage gave me a much needed fill of protein. I just, can't wait, to share the recipe with ya'll.
Snack
Right before the earthquake, I gobbled two pieces of Adora chocolate squares to get some calcium (and try to satsify my insane sweet tooth.)
Dinner:
 So um, dinner was a little different. By the time I got home (it took me 2 1/2 hours versus the normal 45 minutes) I was so stressed that food was the last thing on my mind. However, I went STRAIGHT to the fridge to pop open a bottle of Chardonnay.
I'm ashamed to admit this, but I basically CHUGGED this glass of wine before I even took my shoes off. The  metro can be SO stressful! However, chugging a glass of wine without dinner isn't the smartest plan, but honestly, I wasn't really that hungry. I was still pretty full from the spaghetti! However, I knew if I didn't eat, I would end up gorging on random food items later on. After a few minutes of scouring the fridge and freezer, I decided to make a bag of steam fresh brussel sprouts and 2 pieces of turkey bacon. Doesn't sound like they work together, but just you wait 🙂
This combo is one of my FAVORITES! All you do is heat the sprouts then cut in half, crumble the bacon over it and add a drizzle of extra virgin oil and a sprinke of parmesean cheese! Since brussel sprouts are a good source of dietary fiber, they were perfectly filling! Plus the bacon gave me some protein.
After dinner, I drank one more glass of wine then put myself to bed. It was sort of an eventful day 😀
What are ya'll eating this Wednesday?
Leave a Comment
|
12 Comments
Claire