Woooh, it's a little dusty in here. I might have even spotted a few tumbleweeds in the corner. And yep, there's a few cobwebs over there too. I'm not going to make up any excuse as to why it's been almost 3 weeks since I posted because I don't have any.
Simply put, life got crazy. As many of you know, I spent 10 days in Fiji, one day in LA and three days in Cleveland the first two weeks of October. That meant I had two weeks worth of work to get done before I even left on October 1st. That means each day I had 3 – 6 recipes due a day versus the manageable 2 – 3. That makes it hard to focus on blogging (or showering, eating normal meals, etc).
I want to say I'm sorry but I'm kind of not, to be honest. When I started this blog, I never wanted it to take over my real life. I never wanted this thing I loved to turn into something that left me stressed when I was on vacations or weekends (I have a full-time job for that!) I always wanted this blog to be my place of solitude, a small corner of the internet where I never had to worry about deadlines or traffic.
And it's remained that. Although I have no intentions of leaving you hanging for that long again (no more waffles, Tracy!), I can't say it'll never happen again. But I can make you promise, when I do come back I'll have a ton of new recipes to make up for it.
Which is why you're looking at an amazing little bowl of stew this morning! French onion soup is one thing I can never get enough of (ask my mother about the time we went to Paris and that's all I ate). I also love beef stew. So one morning, I had the crazy idea to mate the two together to create one insanely delicious flavor packed stew that's complete with a crispy, cheesy crouton on top.
Holycow. You guys, this stew. I can't believe I managed to keep it secret for three weeks because I'm already planning a remake this weekend. I hope this stew makes up for my absence, if not, don't worry, I have plenty more recipes and stories that should
French Onion Beef Stew
CLICK HERE FOR THE PRINTABLE VERSION OF THIS RECIPE!
Serves about 4.
Prep time: 15 minutes
Cook time: 1 1/2 hours
Ingredients: 
1/2 cup unsalted butter (1 stick)
4 cups sliced onions
6 cups low sodium beef broth
1 cup dark beer
2 1/2 pounds beef stew meat
3 tablespoons flour
2 tablespoons extra virgin olive oil
3 medium carrots, sliced
3 medium celery stalks, chopped
4 medium red potatoes, sliced
1 cups mushrooms
1 1/2 tablespoons italian seasoning
4 slices of french bread
4 slices of mozzarella or provolone cheese
Salt and pepper
Directions:
 Melt the butter in a large Dutch oven over medium high heat. Add onions, reduce heat to medium low, and cook until onions are soft and translucent, about 10 minutes. Mix in 4 cups of broth and 1 cup of beer. Reduce heat to low and simmer for about 15 minutes. Remove from direct heat after but keep warm.
Meanwhile, dredge the beef stew meat in flour and shake off excess. Heat olive oil in another pot over medium heat. Add the beef stew meat in batches and cook until browned on each side, about 4 – 5 minutes. Remove from heat and set in another bowl.
Add beef to the same pot and stir in the remaining 2 cups of broth. Increase heat to high, bring to a boil and then reduce to low. Simmer for about 30 minutes, or mixture is thickened.
Gradually mix in the onion and beer/broth mixture, mixing well. Stir in the carrots, celery, potatoes, mushrooms and italian seasoning. Cover the mixture and simmer for another 30 – 45 minutes, or until vegetables are soft.
Preheat broiler. Fit a slice of bread over four ramekins or bowls. Add a slice of cheese to the tops of the bread. Broil for about 2 minutes or until cheese is melted and browned. Serve warm.
Nutritional information per serving:
Calories: 675
Fat: 24 grams
Carbohydrates: 44.5 grams
Fiber: 6 grams
Protein: 32 grams
Weight Watchers Points: 14
These luscious apple & cranberry whole grain granola waffles are the perfect fall breakfast and brunch treats!
I am a walking cliche when it comes to fall.
My house is already decked out with my fall decor, including cute mini plush pumpkins, gold and pine cone accents, fresh fall flowers in every vase and a homemade burlap wreath adorned on the door. My cozy sweaters have already replaced the maxi dresses in my closet, I wear boots with  just about everything now and I'm gearing up to dye my hair a vibrant shade of red. Whether my husband likes it or not, I've already scheduled our weekends until the end of November with pumpkin patch outings, apple picking, haunted houses and fall getaways to rustic cabins.
And I have absolutely NO shame in admitting that. Nor do I have shame for replacing my favorite summer recipes with hearty, apple and pumpkin filled masterpieces like this apple granola whole grain waffles.
Don't get me wrong, I'll miss those plump tomatoes and fresh zucchinis. But boy am I ready to bake all the things with pumpkins, apples and squash. I know that's so cliche because apparently loving fall is like the "new" thing for girls in my age range, but I've loved fall before it was the thing to do. I grew up craving the crunch of leaves under my boots. I'd dance around outside in piles of leaves with my sweaters pulled over my fingers as my mom made chunky stews and my dad raked. Fall was my time. It was the one time I truly felt excited, nostalgic and me. I looked forward to fall the way most kids looked forward to Christmas and summer vacation.
So yes, I may be cliche, but it's how I've always been. So call it whatever you like, but I'm going to continue to wear my yoga pants, drinking my PSLS and going to every single pumpkin patch in the Virginia, Maryland and DC region.
Apple & Cranberry Whole Grain Granola Waffles
CLICK HERE FOR THE PRINTABLE VERSION OF THIS RECIPE!
Serves about 6. Inspired and adapted from All Recipes.
Prep time: 5 – 8 minutes
Cook time: 4 – 6 minutes
Ingredients: 
2 large eggs, beaten
1 3/4 cup almond milk
3 tablespoons apple butter
1/4 cup + 1 tablespoon unsweetened applesauce
1 teaspoon vanilla extract
2 tablespoons honey
1 1/2 cup whole wheat flour
1/4 cup ground flax seed meal
1/4 cup almond meal
4 teaspoons baking powder
1 teaspoon apple pie spice
2/3 cup chopped apple
6 tablespoons dried cranberries
About 1/4 cup apple blueberry granola (I used Bob's Red Mill)
Directions:
Preheat your waffle maker to medium and spray with nonstick cooking spray.
In a large bowl, whisk the eggs, almond milk, apple butter, applesauce, vanilla extract and honey until fully mixed. In another bowl, whisk the flour, ground flax seed meal, almond meal, baking powder and apple pie spice together.
Gradually add the dry mixture to the wet mixture, stirring until fully combined. Mix in the apple and cranberries.
Pour batter (about 1/2 cup at a time) into the waffle maker and cook until golden brown (about 3 minutes). Serve each waffle with granola and maple syrup!
Nutritional information per serving (1 waffle):
Calories: 300
Fat: 7.2 grams
Carbohydrates: 47 grams
Fiber: 4.5 grams
Protein: 9 grams
Weight Watchers Points: 8
This is a sponsored post written by me on behalf of Green Mountain Gringo all-natural chips and salsa. All opinions are 100% mine.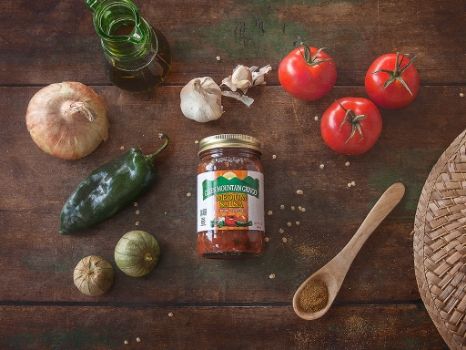 I am a salsa FREAK. It's easily my favorite condiment. I put it on salads, burgers, sandwiches, wraps and pizzas, and of course indulge in the traditional way of eating it, with salty, crispy tortilla chips. Because I love salsa so incredibly much, I've become a bit of a salsa snob. I no longer buy the stuff on sale and always look for brands that fulfill my four main MUSTS in salsa buying:
Must be all natural
FREE of pesky GMOs
Gluten-free (naturally, of course)
Vegetarian (can you believe some salsas aren't?)
You'd think all salsas would fit these, but sadly not. That's why I'm such a huge fan of Green Mountain Gringo. For one, awesome name for a salsa, don't you think? And two, they are sourced from only REAL ingredients, which you can taste with chip-full.
Green Mountain Gringo is currently holding a fabulous #tastefullycrafted contest where they are giving away a trip to the Great American Beer Festival in Denver, Colorado! I'm a total beer lover too, so I desperately wish I could win this! All you have to do to enter is to submit a photo of what you think "tastefullycrafted" means to you. I mean, it's THAT simple! The photo that best represents what it means to be tastefully crafted wins.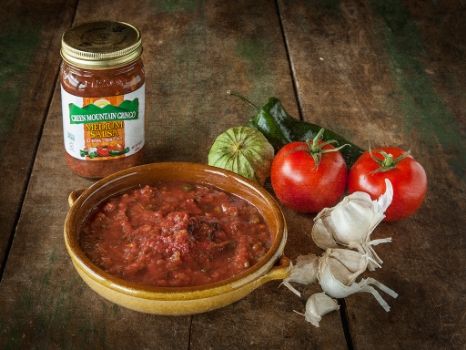 Naturally I had to submit so I started thinking of what the term tastefully crafted meant to me. Of course, my mind went to beer since my husband is an amazing home brewer. We just spent this weekend bottling his new Whiskey Stout and it smells amazing. While he bottled, I enjoyed a pint of his Kolsh, which is an amber style ale.
 It's hard to have commercially made beer now because my husband's is so amazing. Beer and salsa snob? I think I could be labeled as worse things, don't you? So here are the rules. It's a little late to enter the contest, but you can still vote on your favorites!
Contest is open for photo entry 9/4 – 9/16
Entries are closed, voting begins 9/17 – 9/22
​Winners are announced 9/23
You can vote for your favorite entry (or your own) on the Green Mountain Gringo's Facebook page, beginning September 17th (12 pm EST). Now onto the prizes!
First Place Grand Prize (1 winner): 2 tickets to the Denver Great American Beer Festival and lodging ($1250 Value)
Second Place (5 winners): 2 tickets each to the Denver Great American Beer Festival ($430)
Third Place (4 winners): a Tastefully Crafted Party Pack ($100 value)
Honestly, I'd love the first two, but waking up to THIS on my doorstep wouldn't be so bad either, right?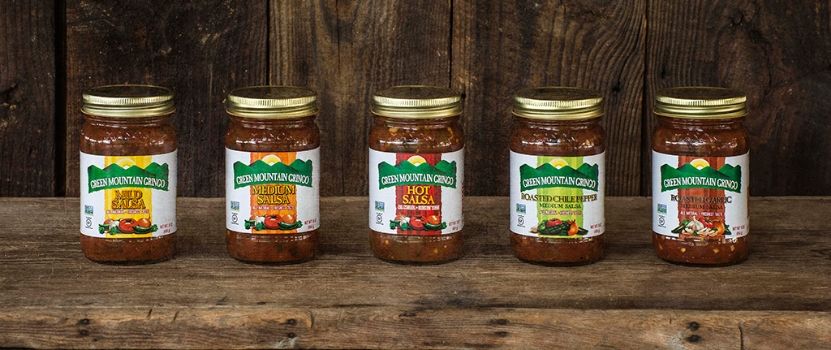 If you want to learn more about Green Mountain Gringo's amazing products, check out the below!
Green Mountain Gringo Facebook
Green Mountain Gringo Instagram
Green Mountain Gringo Tastefully Crafted Contest
Try saying that 10 times fast.  Seriously, try it. It's embarrassing.
It's Monday, and all Mondays just need cookies. All the cookies. It's really the only way to combat the exhaustion, the heavy workloads, the anxiety and the stress of an upcoming week, right?
I thought so.
Today's recipe is 100% inspired by my friend Ali's decadent looking coconut oil chocolate chip cookies. I've been lusting after them since they first appeared on her blog and knew this weekend was the perfect time to craft my own coconut oil cookie, using a few different ingredients. I knew instantly that I wanted to make these gluten free, primarily because I was out of all purpose flour. However, it worked out perfectly because I was able to gift these soft, chewy and delicious cookies to my friend with a gluten allergy, so it all worked out!
I also knew peanut butter had to happen. I'm 1600% addicted to it and I knew if it didn't find its way into a recipe soon, I'd keep spoonfeeding it into my mouth without any shame. That and I had peanut butter chips, which are even more addicting than regular peanut butter itself because you can just pop them into your mouth. They are the most delicious and the most dangerous ingredient to enter my kitchen since a bottle of wine.
I was a little skeptical that this recipe would trump my favorite low-fat chocolate chip cookies or my peanut butter chocolate chip cookies, but holycrap, did they. The coconut oil gives them just the slightest coconut flavor, so if you're not a fan of the flavor, don't worry, it's not overwhelming. I love Carrington Farms because it comes in this awesome little jar that make measuring a BREEZE.
Every bite is SO moist, so chewy and so incredibly tasty, you probably won't stop at just one. You might have 6 and then immediately do a Jillian Michaels 30 day shred to combat the calories. You just might.
Gluten free Peanut Butter Coconut Oil Cookies
CLICK HERE FOR THE PRINTABLE VERSION OF THIS RECIPE!
Serves about 16. Recipe adapted and inspired by Gimme Some Oven.
Prep time: 10 minutes
Chill time: 24 hours
Cook time: About 12 – 14 minutes
Ingredients:
1/2 cup Carrington Farms coconut oil, softened but not melted
3/4 cup creamy peanut butter (not natural)
1/2 cup brown sugar
1/2 cup white sugar
1 large brown egg
2 teaspoons vanilla extract
1 cup gluten-free all purpose flour
1/2 cup almond meal
1/2 teaspoon xantham gum
2 teaspoons corn starch
1 teaspoon baking soda
Dash of salt
3/4 cup peanut butter chips
1/2 cup chopped peanuts
Directions: 
In the bowl of a stand mixer, beat the coconut oil, peanut butter, brown sugar, white sugar, egg and vanilla. Beat until creamy, about 3 – 4 minutes.
In another bowl, whisk the gluten-free frlou, xantham gum, corn starch, baking soda and dash of salt in another bowl. Add the flour mixture to the creamy peanut butter mixture, mixing well after the addition until a dough forms. Remove the whisk attachment and mix in the peanut buter chips and peanuts with a wooden spoon.
Using a small ice cream scoop, scoop out 12 cookies onto a parchment paper lined baking sheet. Cover tightly with foil and chill for at least 24 hours.
Once chilled, preheat oven to 350 degrees F. Bake the cookies for about 12 – 14 minutes, or until golden brown. Let cool on the pan and then move to a wire cooling rack. Let cool completely then enjoy!
Nutritional information per serving (1 cookie):
Calories: 300
Fat: 14.5 grams
Carbohydrates: 29 grams
Fiber: 4.5 grams
Protein: 7.2 grams
Weight Watchers Points: 7
332ecfbce8e15f41faeea6633b1042b5e67f20942389926ed7
Sneak in some extra protein to your morning routine with these luscious pumpkin apple lentil muffins, made with an assortment of Bob's Red Mill healthy products!
This morning is going to be one of those mornings where I forget pouring my coffee into a mug and instead just guzzle it directly from the pot. Good thing I work from home where such practices are widely acceptable on account that the only living things who will witness the act have four legs and can't speak. But don't worry, that won't stop them from immensely judging me.
I'm going to saveur these moments because when I enter back into the world of full-time office employment, such practices will be frowned upon. I'm also working on trying to adapt to a normal routine again, which is proving more difficult than I first imagined. When you get used to working from home, you get used to some comforts. For example, your showers move from 6:30 am to 3:30 pm, and they happen only because your hair is so caked with flour and batter you can't get a brush through it. Your wardrobe of skinny pencil skirts and chiffon blouses quickly turn into oversized t-shirts and yoga pants, many of which have these strange stains you can't figure out where they came from.
Grease? Months of flour? Butter? Your hair is no longer styled, but simply plopped into a high bun. Instead of engaging and intelligent conversations with colleagues and like-minded adults, my conversations now involve a high-pitched voice and a "whose a good boy" after every sentence. The giant closet of shoes have been replaced by flip flops, high boots and Keds. The saddest part is that one can go with spinach in their teeth from 2 – 6pm because no one is around to tell them so.
Such a glamorous life, don't you think? These reasons, among many (which heavily involve my sad, pathetic bank account) are reasons why I'm excited and nervous to get back to a routine and a 9-5. To further help prep myself for such a transition, I've been making goodies that I can eat and go when I'm inevitably running to catch the bus, like these pumpkin apple lentil muffins!
Each muffin is loaded with protein (thank you Bob's Red Mill lentils and peanut butter) so it keeps you full well into lunchtime (has your stomach ever grumbled in a conference room full of people? Not pretty). Plus it's made with fabulous fall produce, like pumpkin and apples, which make every bite that much more enjoyable. Not to mention they are completely gluten-free, which means no post-wheat bloat in those tiny little skirts.
Maybe transitioning won't be so difficult after all.
Pumpkin Apple Lentil Muffins (Gluten-free)
CLICK HERE FOR THE PRINTABLE VERSION OF THIS RECIPE!
Yields about 14 muffins.
Prep time: 10 minutes
Cook time: About 15 – 16 minutes
Ingredients: 
1 cup high quality all purpose gluten-free flour
1/3 cup almond meal
3/4 teaspoon Bob's Red Mill xanthum gum
1 teaspoon baking powder
1 teaspoon baking soda
3/4 teaspoon pumpkin pie mix
1 large egg, slightly beaten
3/4 cup lentil puree* (see below)
1/4 cup peanut butter
1 cup pumpkin puree
1/2 cup brown sugar
1/4 cup unsweetened applesauce
1/4 cup apple butter
1/2 cup chopped pecans
1 large apple, chopped
For the glaze:
1 1/3 cup powdered sugar
2 tablespoons light cream
*To make lentil puree, simply cook 1 cup of Bob's Red Mill red lentils as the package indicates. Once fully cooked, place into a food processor and pulse with 1/4 cup of water until pureed (mixture will resemble canned pumpkin or almond butter).
Directions: 
Preheat oven to 400 degrees F and line a muffin tin with paper liners. Set aside.
In a large bowl, whisk the flour, almond meal, xanthum gum, baking powder and pumpkin pie spice. Make a center into the middle and add in the egg, lentil puree, peanut butter, pumpkin puree, brown sugar, applesauce and apple butter. With a wooden spoon, stir the mixture until fully combined. Gently fold in the pecans and apples.
Spoon the batter into the paper liners, filling about 3/4 the way full. Bake for about 14 – 16 minutes, or until a toothpick inserted in the middle comes out clean. Let cool slightly.
Meanwhile, make the glaze by whisking the powdered sugar and light cream together. While the muffins are still slightly warm, glaze.
Nutritional information per serving (1 muffin)
Calories: 173
Fat: 7.5 grams
Carbohydrates: 25.8 grams
Fiber: 1.6 grams
Protein: 4 grams
Weight Watchers Points: 5