PIN IT!
I guess it's time to whip this bad boy outta storage?
So, whether you are ready or not, it's the holiday season. Christmas commercials are now interrupting my favorite shows, grocery stores are stocked up on turkeys, cranberry relish and dinner rolls, department stores are decked out in lights and trees and Christmas music is starting to decorate the airwaves. This is my favorite time of year, so I'm REALLY excited. Especially since, if all things go right in my life (which never happens, but I'm praying) I'll have time to actually ENJOY the holidays. I'll have time to bake, shop and spend time with my family. The past 2 years have been so busy with work, I've only spent a few days with them. I want more time with my family. That's what the holidays is all about, right?
Why all the talk about the holidays all of a sudden? Well, Starbucks has introduced it's holiday cup! My venti non fat pumpkin spice latte is now being served in a bright red and festive cup! What better way to kick off the holiday season right? And, what better introduction to What I'm Eating Wednesday!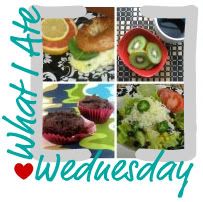 Breakfast:
What better way to start the day than with a Christmas infused latte 🙂 Now, I know coffee does not a breakfast make, but work? IT'S CRAZY. We have our big walkathon in 2 WEEKS (SIGN UP HERE!) so my life is a bit hectic. I promise to do better when the walk is over.
Lunch:
A rather horrible iPhone photo of pasta! I'm trying to slowly ween myself off carb dependence so I'm aiming to eat carbs for breakfast-lunch and limit them at dinner. Which sucks, because I love carbs. But my stomach? Hates everything right now, especially things that make me happy. Go figure.
Low fat red velvet cupcake with my light cream cheese frosting. I said I was cutting carbs at dinner, remember? (I have a problem). I made these for our Halloween party and they were a huge hit! No one had ANY idea they were low fat! Score 🙂
Dinner: 
[Photo via My New Roots]
I'm totally recreating this version of spaghetti squash from My New Roots for dinner tonight. Except, I'll probably sub out spinach for kale and add some caramelized mushrooms, feta and diced tomatoes. I love spaghetti squash and it's such a fabulous alternative to pasta. Yum.
Dessert:
[Photo via Simply Recipes]
Fresh, homemade applesauce. YUMMMMMMM. I have about 1,000 apples I need to use up  before they go bad (which I fear is soon). Plus, it's healthy. Add a bit of fresh cinnamon and you have a perfect dessert.
So friends, what are you eating Wednesday? And are you as stoked as I am for the holidays?
Leave a Comment
|
18 Comments
Claire