PIN IT!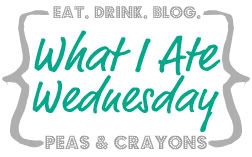 Happy Wednesday! I would say "hump day" but that term makes me feel dirty. So, I'll stick with Wednesday. It's going to be a CRAZY one hurr in DC but I'm ready for it! I'm seriously bursting at the seems with my exciting news, but I can't share for another 2 weeks. Or, maybe I will after a few glasses of wine. I'll try to fight it though.
Now, let's begin with another fabulous What I Wish I Were Eating Wednesdsay! A wonderful thanks to the beautiful host of this, Peas and Crayons!
Breakfast:
Low fat pumpkin cake! I know what you're thinking, cake is not breakfast. But guys, it has no butter or oil, so it's super healthy! If you're going to have cake for breakfast, you need to at least tell people it's healthy, right?
[photo via Pinterest]
Instead of the pathetic office coffee I did have, I wish I had this delicious looking latte instead. Frothy, coffee goodness.
Lunch:
[photo via]
I absolutely could live off sushi. I sort of blame Gretchen for my mad obsession but I just can't get enough of this stuff! I'm addicted to spicy tuna and eel rolls, currently. In addition to being delicious, sushi is naturally low in fat and calories! Now, that's before you douse each piece in salt water (aka soy sauce) 🙂 I could kill someone for some sushi today.
I love having wine with lunch. Don't get me wrong, I pretty much love wine anytime of the day, but I especially love it at lunch. Don't you think sushi pairs perfectly with a crisp class of Chardonnay? I thought so too. Plus, those views? I wouldn't mind those either 🙂
Dinner:
Now, this is a dish I actually plan on eating! I can't wait to dig my teeth into this amazingly decadent (and healthy!) version of chicken parmesean from Cooking Light! I've had a mean craving for some hearty Italian food lately so this recipe is right up my alley way! Plus, it's made with less cheese and served over orzo so you shave off extra fat, calories and carbs!
Now, what are you guys eating? Or better yet, what do you wish you were eating?
Leave a Comment
|
18 Comments
Claire