PIN IT!
Hello friends!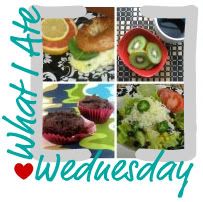 It's time for another round of
What I Wish I Were Eating Wednesday
! In true Claire fashion, I've forgotten to photograph my daily eats. Instead, I've gathered up a few delicious meals I wish I could eat right now, but can't due to my stupid stomach pains. Plus, these meals probably total 10,000 calories. Lord knows my size too small R&R'S would not fit at all if I ate like this everyday.
Breakfast:
Bacon, egg and cheese toast cups from Martha Stewart. Like, are you freakin' kidding me here? I would eat all 6 of these in one swift chomp. I SO want to make these this weekend and indulge with a morning mimosa. You hear that stomach? I have no room for your shenanigans!
A nice steamin' glass of Peet's coffee. My coffee at work is less than stellar, so some legit coffee would really work to perk me up. Plus, I wouldn't say no to an apple cider doughnut, I'm just sayin'.
Lunch:

A big ol' honkin piece of spin dip pizza. As I was writing the post yesterday, I was legitimately drooling like a dog. Now, as I stare at this photo again, I'm faced with the same problem. I am DYING for a piece of this again. Looks like I'll have to make another pizza pie tonight. Aww shucks 😉
Snack:
Spicy roasted chick peas are the BOMB.COM y'all. They are so flavorful and have the perfect amount of kick. Plus, they are much healthier (with substantially less sodium) than peanuts or cashews! They are super addicting though, I warn you!
Dinner:
This AMAZING spinach, lemon and orzo soup from Cassie at Bake Your Day. It looks so flavorful and comforting, especially on this cold, yucky rainy day. Cassie, will you be a dear and send me some via USPS? or owl?
Homemade garlic bread from Pinterest. I mean, seriously, you can't have soup without a crunchy, delicous piece of bread to go with it, right?
Dessert:
A bloody severed finger is the perfect end to a delicious day of eating, don't you think? Check out this recipe guys, it's the PERFECT scare your friends shitless recipe!!
What are y'all eating today? Anything you wish you could eat if calories weren't an issue?
Leave a Comment
|
19 Comments
Claire