PIN IT!
Dear Summer,
Thank you for deciding to grace us with your presence. It is almost May after all. So thank you for the high 80 degree weather this weekend. I know the perfect way to thank you, with a vast new sexy collection of beautiful and affordable sundresses!
So to thank summer for finally showing its face up here in DC, I'm showcasing all of the gorgeous little sundresses I'm salivating after.  Get out, shop and thank the weather gods for gracing us with a little bit of warmth and a lot of sunshine!
Donna Morgan Cotton Eyelet Dress, Nordstrom, $118
Diane von Furstenberg White Jaelle Halter Dress, Saks Fifth Ave, $365
Maggy London Ruffle Trim Jacquard Dress, Nordstrom, $138
Calvin Klein Print Strapless Dress, Nordstrom, $118
Pleated Party Dress, American Eagle, $44.50
Ralph by Ralph Lauren, Macy's, $150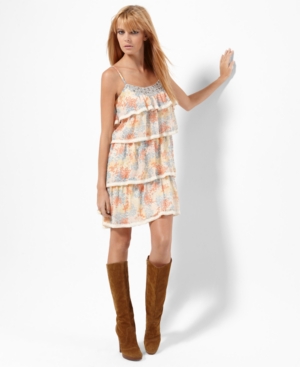 Kensie Dress, Sleeveless Ditsy Floral Chiffon, Macy's, $58.80 (love the boots too!)
Broomstick Gauze Sundress in tropical sunset, Old Navy, $29.50
GREAT DEAL! Exploded Rose Print Dress, Arden B, $34.50
Belted Ruffle Dress, Arden B, $59
GREAT DEAL! Fab Solid Maxi Dress, Forever 21, $14.50
Pleated Floral Dress, Forever 21, $24.80
Mini Market Dress Shells in Fishstripe, Revolve Clothing, $204
Free People Freebird Dress in Citron, Revolve Clothing, $148
Pretty Ruffles Jersey Dress, JCrew, $88
Painted Silk Bridget Dress, JCrew, $168
What better way to celebrate this season of skin?
Leave a Comment
|
5 Comments
Claire